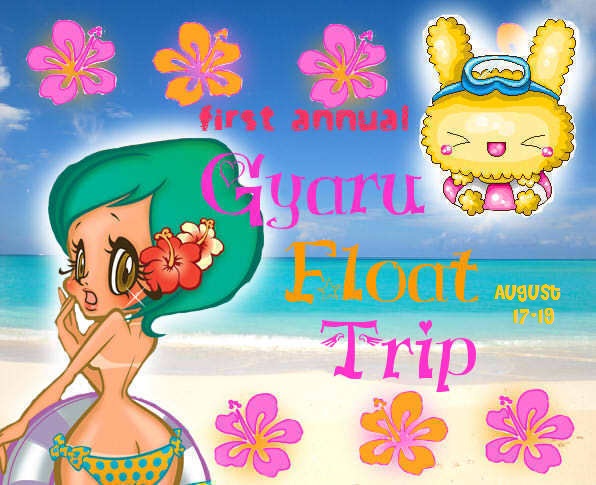 <3Get ready for the first annual GYARU FLOAT TRIP♥
-------------------------------------------
For the first time ever, there is going to be a gathering of gyaru & gyaru-o from all over to spend a weekend camping and floating down a river!
For those of us in the midwest, that is the closest we can get to going on the little stay over beach trips gyaru have during the summer!
Q&A=
~~Don't know what a "float trip" is?
Well, it's pretty simple! You rent a raft from a company, they pack you into a bus and take you to the river. Once at the river, you get on your raft and party/be lazy/have fun for the rest of the day, floating down the river back to your check point, where the bus picks you up, takes you back to the campground where you party for the rest of the night w all the other campers at the campground!
~~Where is it?
We are going to be camping at the Huzzah Valley Resort which is located in south eastern Missouri, about 2 hours out of St. Louis in the Ozarks. We are going to be floating down the Huzzah River which has caves we can go into, bluffs to jump off of, rope swings, various wildlife, and is over all an amazing view.
~~When is it?m
August 17-19 2012. This leaves everybody PLENTY of time to plan for it and to get the word out.
~~What's on the agenda?
-Friday Aug 17: Everybody meets up, checks into the office, set up camp, and gets to know each other over a bonfire and smores... it's going to be a relatively early night because you have to get up semi early the next morning to catch the bus.
-Saturday Aug 18: Wake up early to eat and get ready for the day of floating. Catch the bus, and float for the rest of the day! We will be stopping and having fun and to eat lunch along the way. Once night falls, we will already be back at the camp ground and this is the balls to the wall party night!!
-Sunday Aug 19: Everybody wakes up from a full night of partying to eat and to start packing everything up. This is the time we must say our good byes (;-

</3
~~I'm not gyaru/o?
That is just fine! This is an open event for anybody and everybody to enjoy. But, I must ask you to be aware this will be a gyaru event, meaning it is catered toward gyaru and what they would enjoy the most.
~~ Price?
$33 a person per spot on the float... and a few more for the camp site.
No more than $40 though.
~~~~~~~~~~~~~~~~~~~~~~~~~~~~~~~~~~~~~~~~~~~~~~~
What to bring:
1) tent
2) sleeping bags/blankets
3) towels
4) extra clothes
5) swim suits
6) water shoes
7) bug spray

sun screen
9) food
10) water & other drinks
11) flash light (and batteries)
12) I.D. (for camp ground rental. EVERYONE must have theirs)
optional:
1) booze ♥
2) water toys
3) land toys
4) boom box (battery operated)
5) music
6) tanning oil
7) ???????
~~~~~~~~~~~~~~~~~~~~~~~~~~~~~~~~~~~~~~~~~~~~~~
If you wish to come, but you are not sure how you will be able to get there, PLEASE talk among yourselves when planning rides. Carpooling is highly recommended.
Of corse, I will try my best to make sure everybody can come who wants to!