Hi everyone,
This is my last Gyaru make-up attempt and the reason for that is that because it doesn't suit me at all.
I've tried it dozens of times, but I hate how it looks on me. But I love how it looks on the models.
For example, when I try to recreate the looks and the outfits (I'm more into Otona Gyaru style, a blend between the cute modern style of Tsubasa Masuwaka's to Ena Matsumoto's chic and urban fashion), it doesn't look good on me. No matter if it looks good on the model and even if the outfits are 100% copied from the model herself (i.e. using authentic Japanese brands, finding a replica of it, etc.), it still doesn't look good on me.  
It just doesn't match me.
The make-up looks too heavy and mature for me (my face looks weird with heavy make-up) and the outfits can sometimes be weird looking on me too (yup I have a weird body). It looks great on the models, but it looks like crap on me.
So I'm sorry to announce that no, I will not be following the Gyaru style anymore. Although, I'll always love and appreciate the style and it will always have a special part in me.
There are a lot of you here who rocks the style but it just doesn't suit me.
So I'm really sorry to have to announce this.
So what am I going to do next?
I'm still definitely going to be into Japanese fashion & beauty, my style will be more of a modern general Japanese fashion (like in the magazines of JJ, non-no, CanCam and Seventeen Japan). I'll probably still follow the Otona Gyaru style, and maybe have my own Otona Gyaru inspired style.
Am I still going to be in the Gyaru Community?
Well I was never really a big part of the Gaijin Gyaru community, but I am somewhat active in Forever Gyaru. Yes, I'll still be active in this forum but I won't be posting as much.
So here is my last Gyaru make-up attempt. Who knows, maybe when I'm older I'll follow the style and maybe I would have 'grown into' it by that time. But for now, no more gyaru for me.
Also, all criticism and comments would be nice to hear!  
So thank you all for being extremely supportive and helpful to me. You all have become like one big family to me, and what I love about the Gyaru community is our constant support of each other.
Okay so here is my last and final attempt at Gyaru =make-up!  
(PS. Sorry for the awkward faces and shitty webcam quality. I tried to put emphasis on the eye make and my webcam is - as of always - shitty).
My Eyemake
: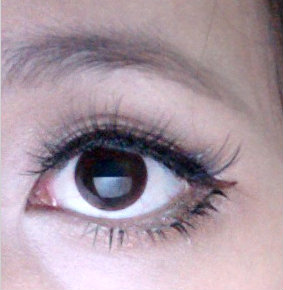 So, what do you think?  
Again, thanks again everyone for your support - I honestly appreciated it. So sorry having to announce this, but I had a really fun time talking and befriending some of y'all!